One stop shop for your online presence.
If we can't beat a competitor's price, we'll send you a $100 Amazon gift card.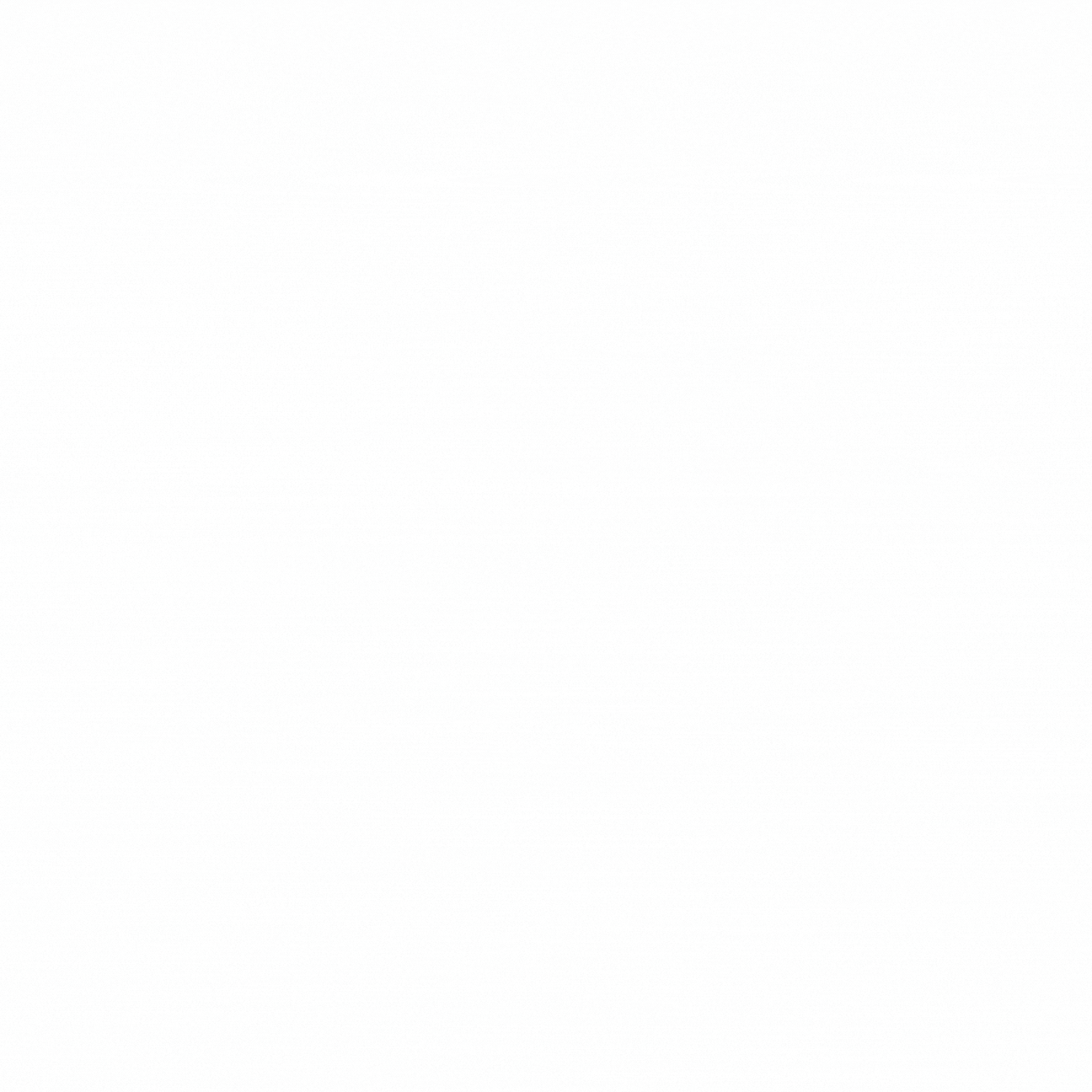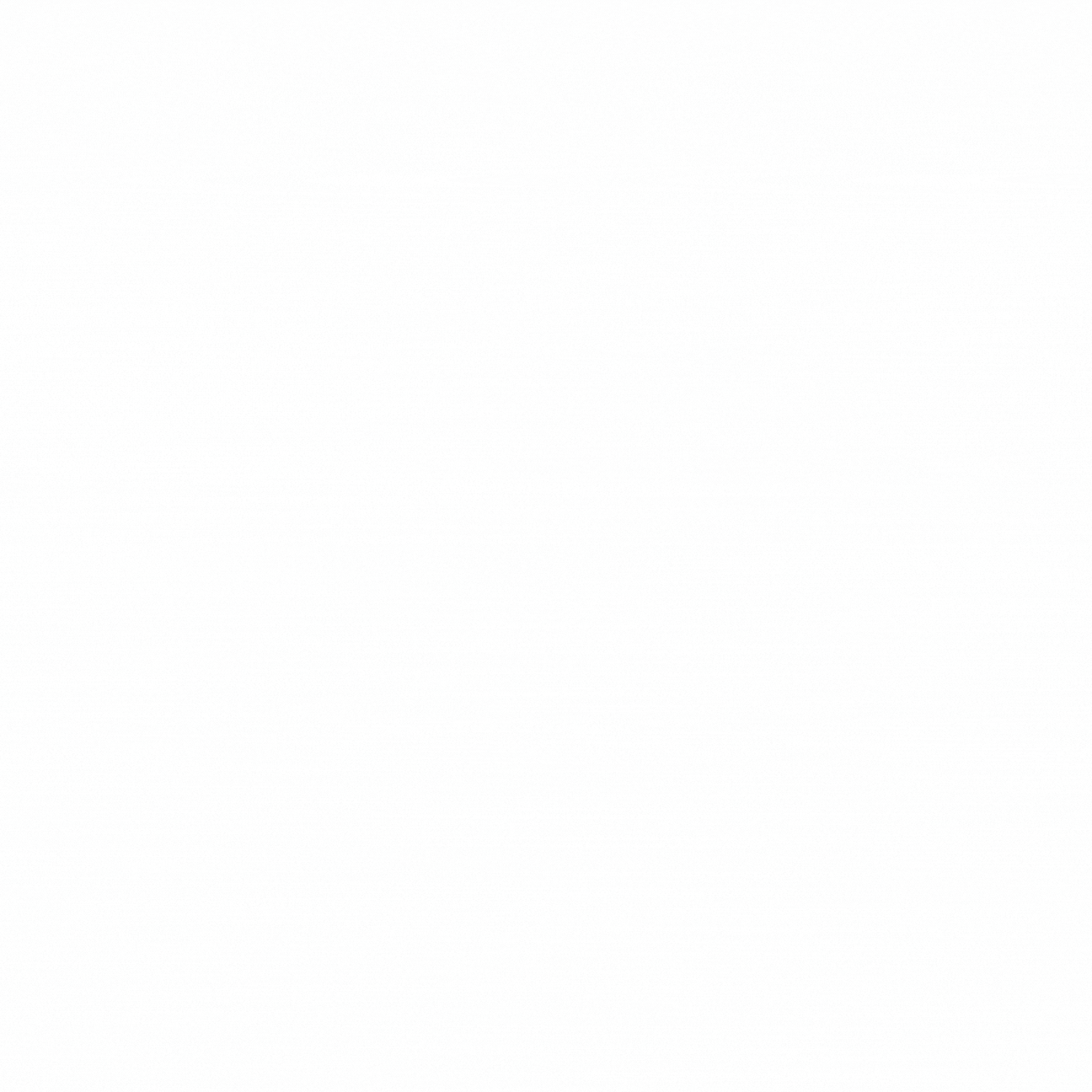 What's the main thing that separates us?
We focus on giving great customer service.
I know everyone says that, but we mean it. We're a small team that cares about your success. When you call, we answer. Text us. Email us. Chat bubble us. We're available to you as much as you need us.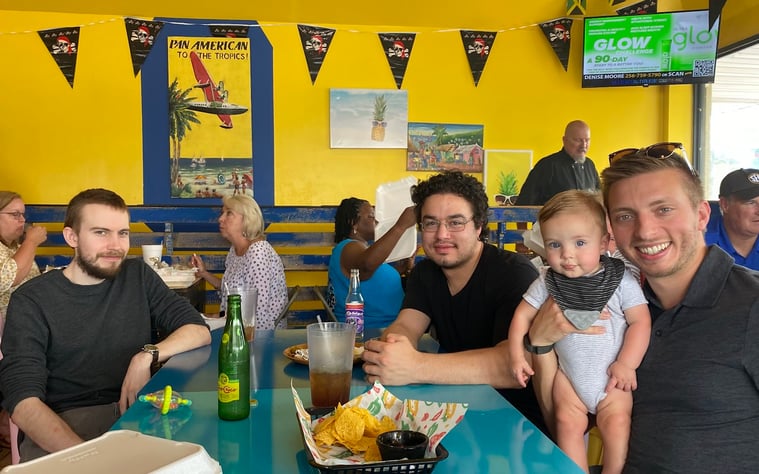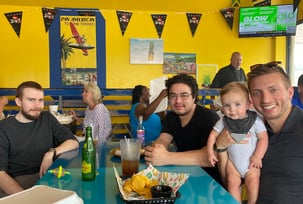 See that little guy in my lap? That's who you're helping feed.
See that guy on the left? He's the Elon of online presence.
We're HQ'ed in Huntsville, AL and helping businesses all across the US and a few different countries.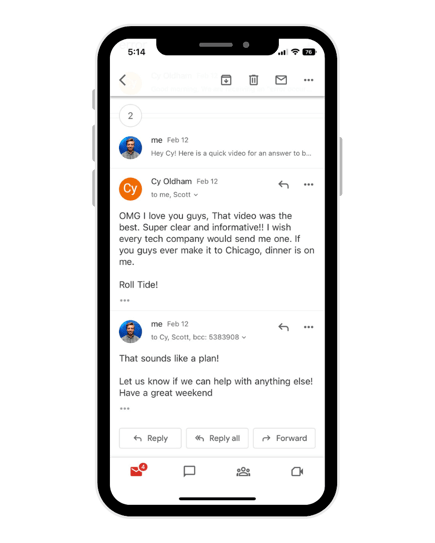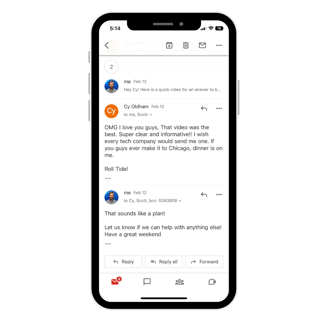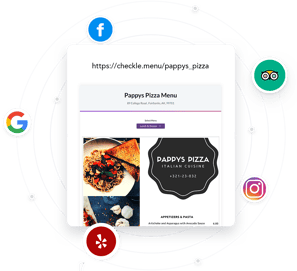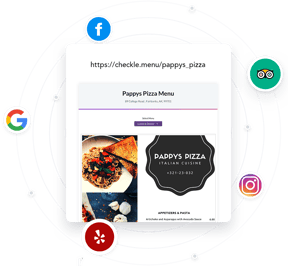 We check everyday to make sure your biz info is synced correctly while pushing your info for SEO.
Pull in all your reviews into one feed for easy reading and responding.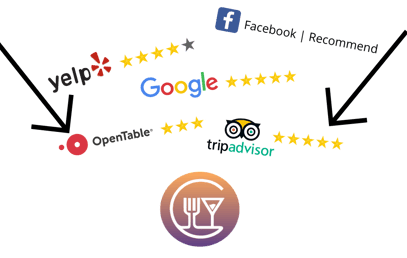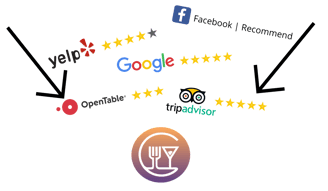 Get the word out about your specials, create a QR code for your menu, and more.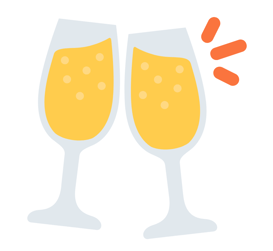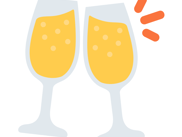 Happy hours, QR codes, & more
Quality and quantity for your listings.
When updating your biz info, it gets pushed to 70+ platforms. This helps with your SEO.

Ever had your info changed on your listings without your consent? We check everyday on Google, Facebook, Apple, Yelp, TripAdvisor, & OpenTable to ensure your info stays exactly how you want it.

Embed your Checkle menu to your website to sync and match perfectly!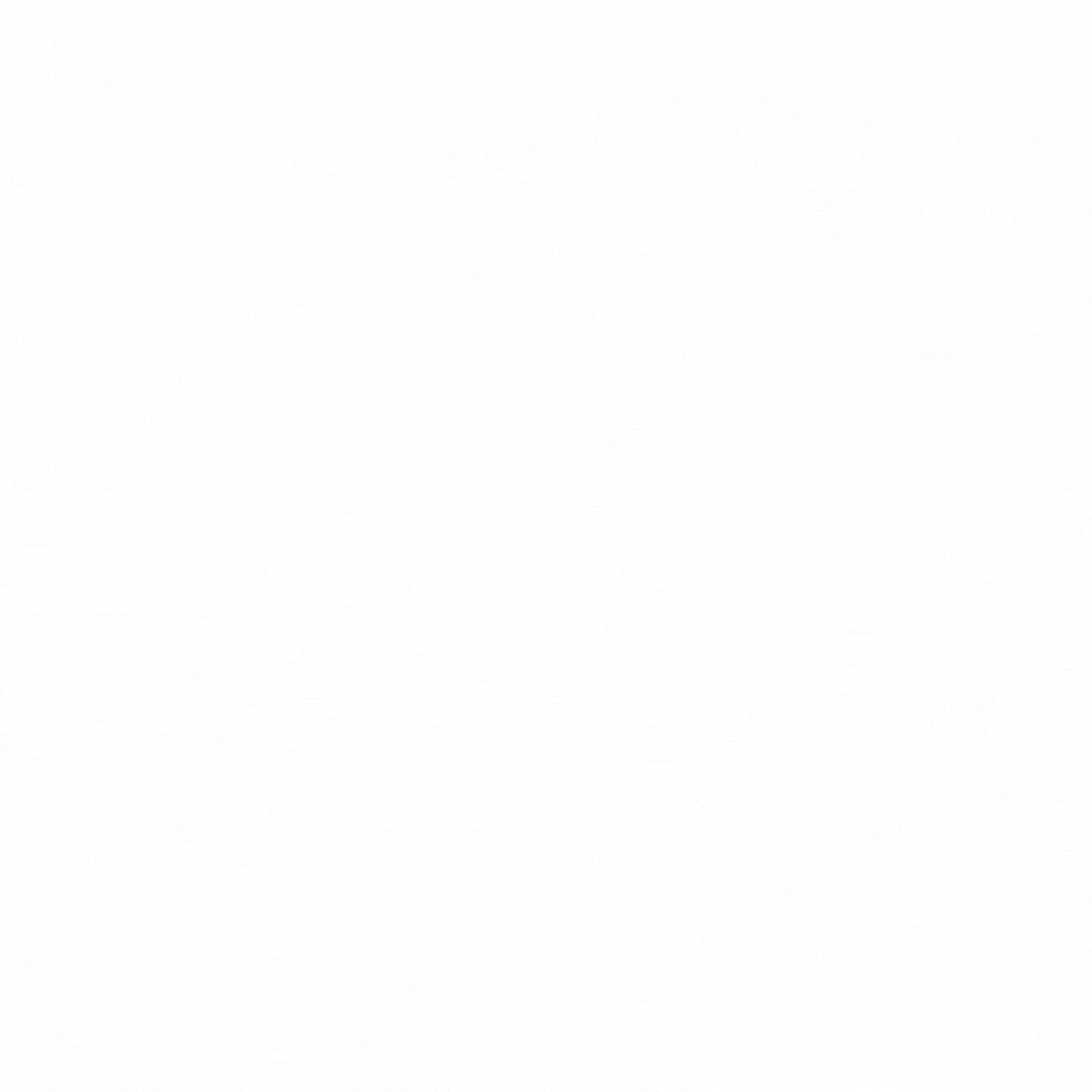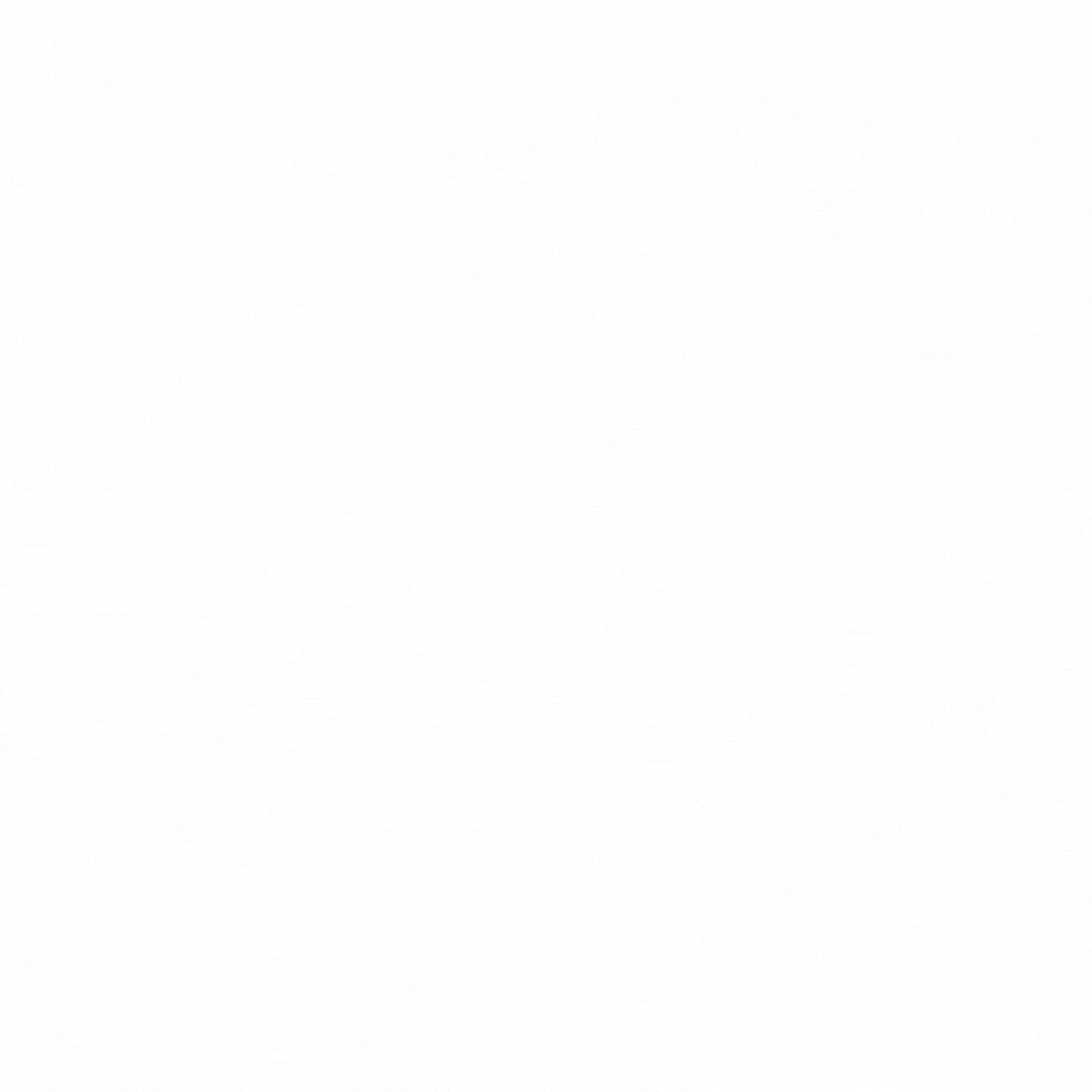 All of your reviews from every review site in one feed for you to easily respond in one place. Analytics to see how your reviews are performing over time.

Run a review campaign that will help you get in the top 10 results for "food near me".

We'll respond to 100% of your reviews for you with a real human within 48 hours of your business receiving a review.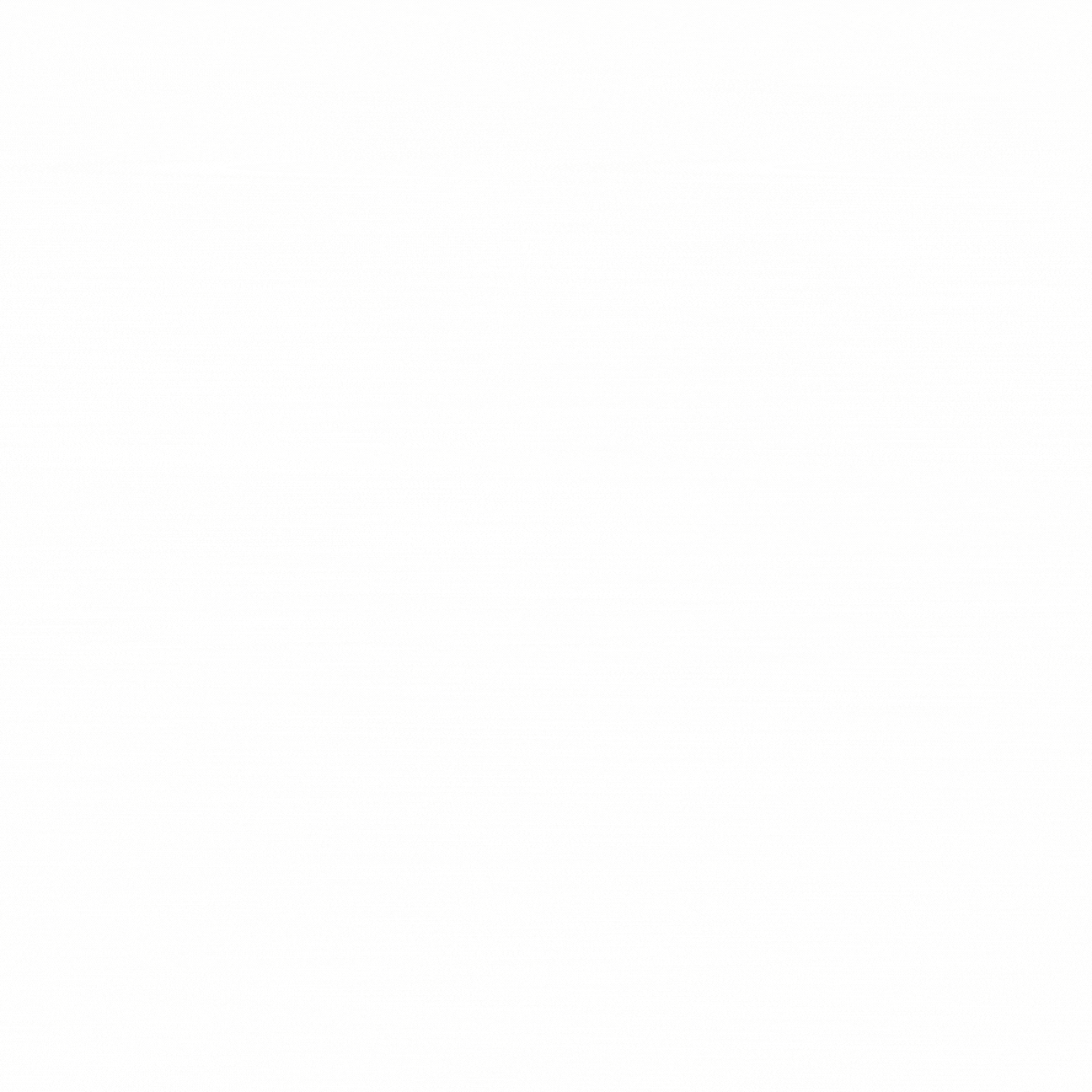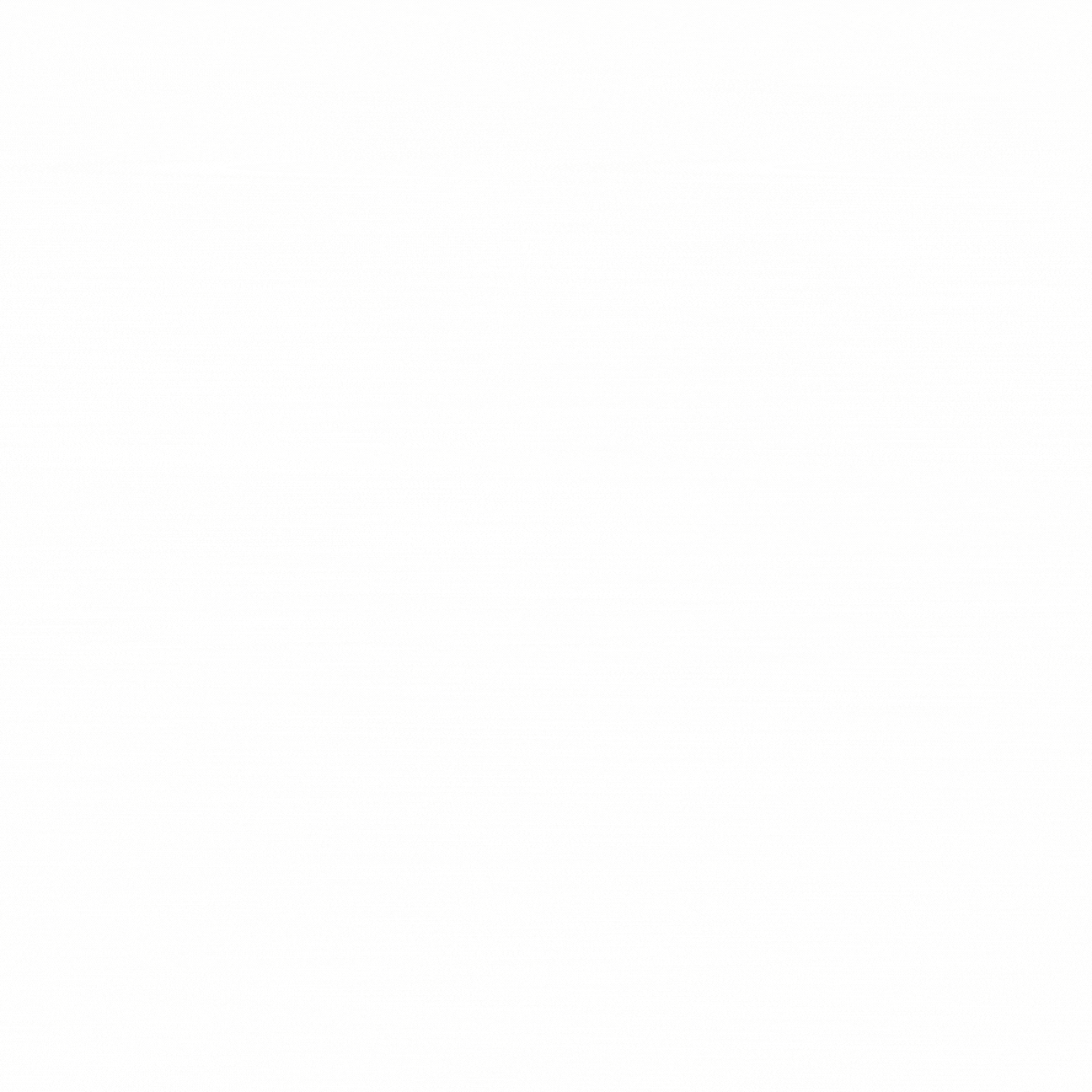 Happy hours.
Social media.
QR codes.
Share your happy hours, specials, and events with millions of people searching for 'happy hour near me'.

Post once in Checkle and share it to Google, Facebook, and Instagram.

QR codes as stickers or table toppers so your customers can always access your updated menu.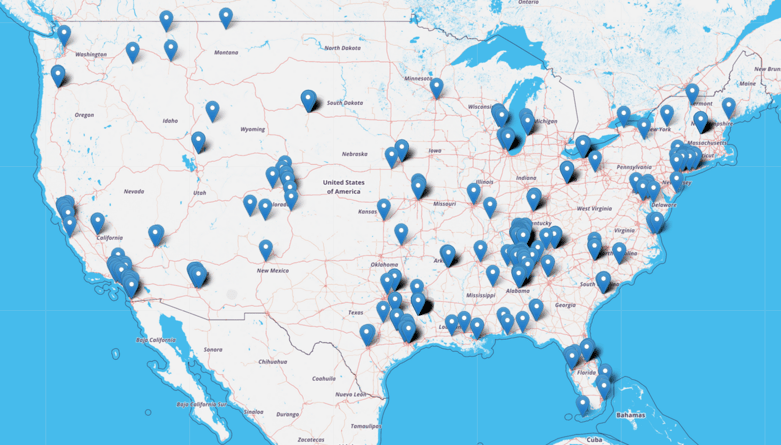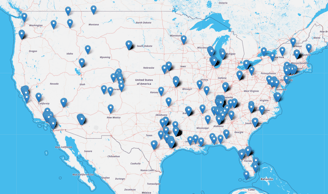 We're working with businesses all across the US with millions of people viewing menus made with Checkle.

From independently owned locations to chains with 100+ locations.
They'll always have a special place in our heart - they were our first.

We went to them and basically said "You guys make great food. We can make great software. What can we help you with?" And the rest is history. Melt uses Checkle to sync their biz info, bring all their reviews into one feed, share their specials and run review campaigns.

They ran a Fried Oreo campaign and received 134 five star reviews in 5 days. They went from brand-new restaurant to one of the most reviewed, highest rated restaurants in Huntsville.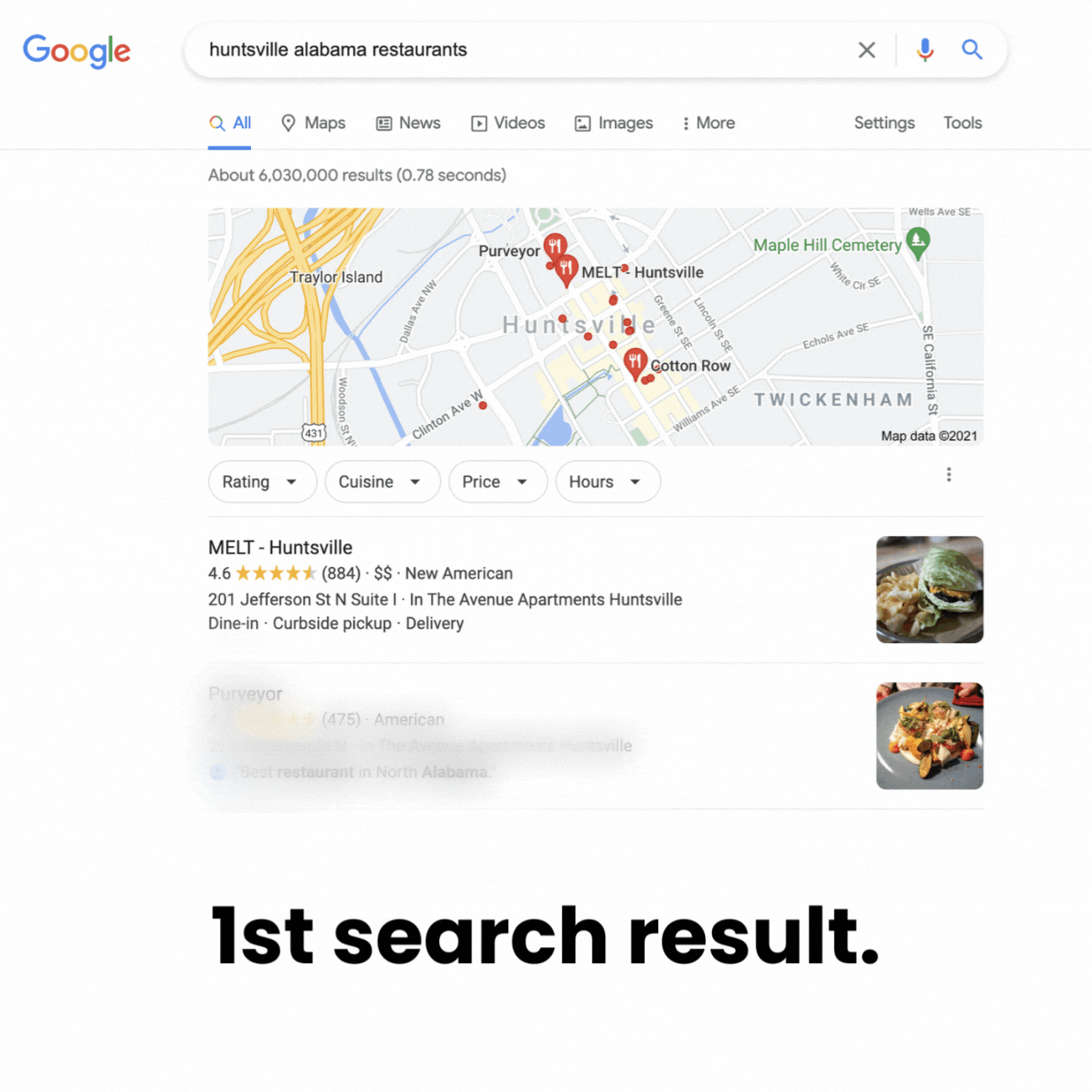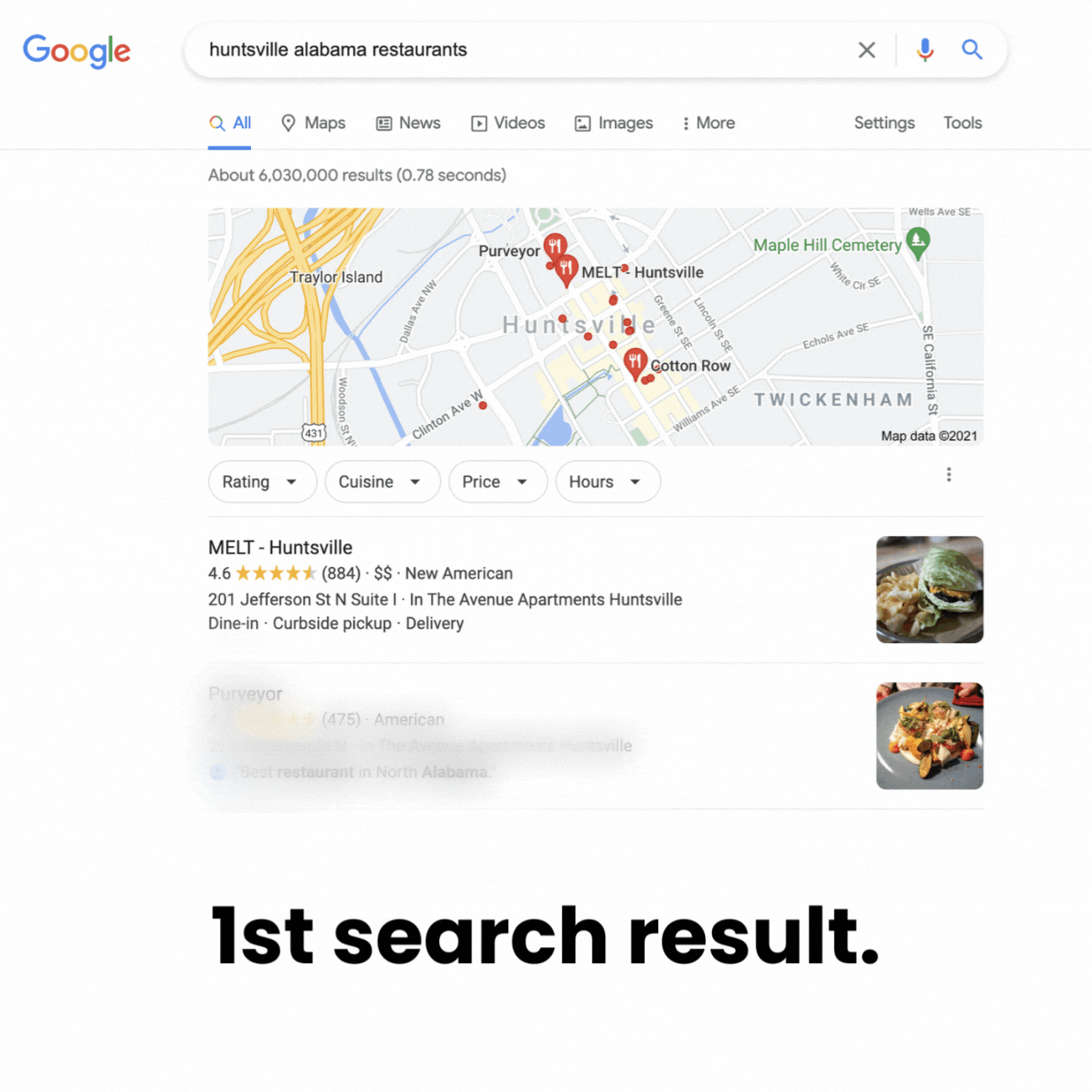 Guess which month SuperChix started using Checkle's review campaign?
Super Chix 13x'ed their reviews when using Checkle. They were averaging 31 reviews a month and went to 395 in July. They averaged a 4.9 on the reviews they received running the review campaign.
Super Chix went from a relatively new restaurant in the Hoover area that was not ranked on Google to one of the top results in the area in just a few months.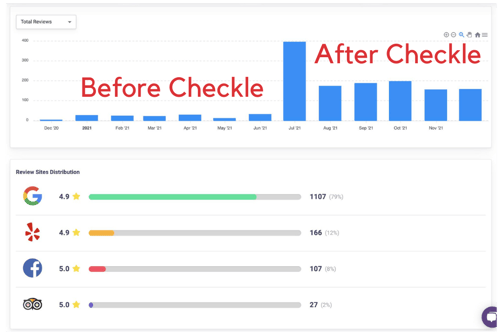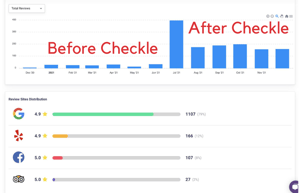 What do we mean when we say "Small biz. Big results."? Bryant Park Grill is the thirst largest independent restaurant in the US. They overlook Central Park in NYC.
Bryant Park Grill's favorite feature of Checkle is the embed that is custom designed for their website. They also love the Review Insights feature that provides summaries of topics mentioned frequently in reviews.
When using Checkle, it is truly one access point for their menu everywhere online. Update your menu in Checkle, the menu is synced up everywhere online your customers are finding Bryant Park Grill.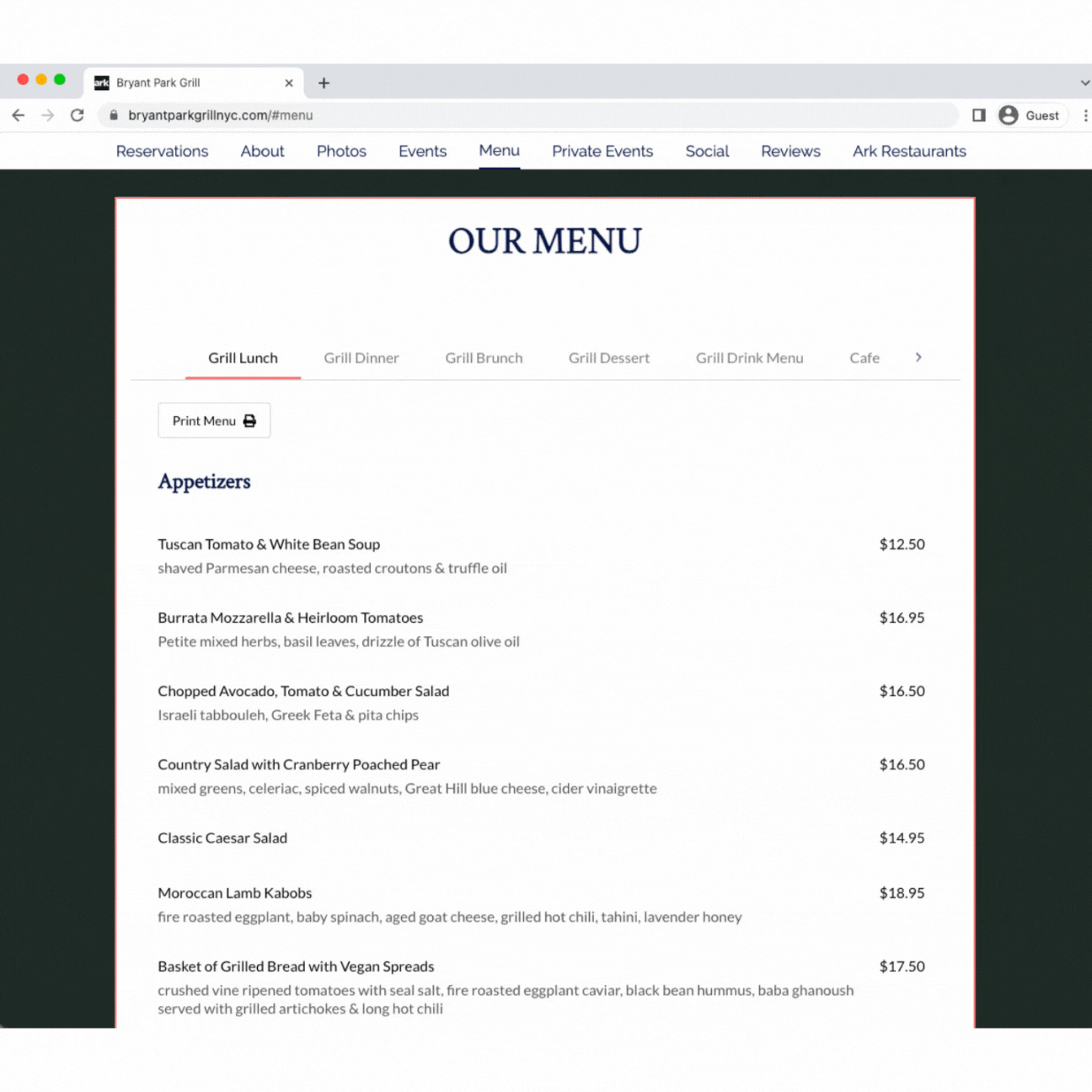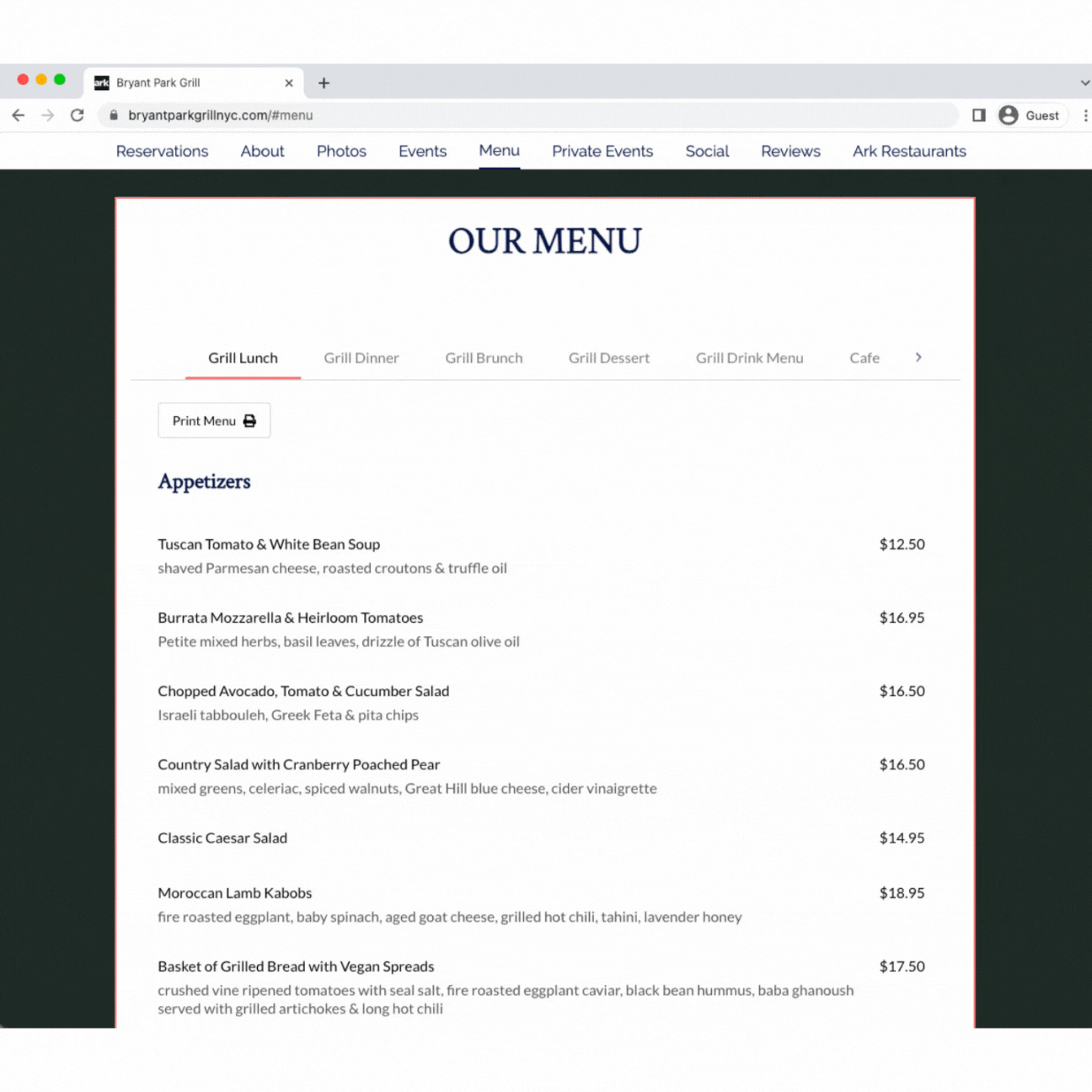 We've been told this is the most popular restaurant in San Francisco. They've gotten over 8,200 reviews on Yelp with a high star rating. Going off the pictures on their menu, we can see why! The food looks delicious and it is on a beautiful pier!
Fog Harbor is using Checkle to make sure their listings are accurate on every platform, including Yelp. They also use Yelp for ensuring they don't miss any important feedback for their restaurant.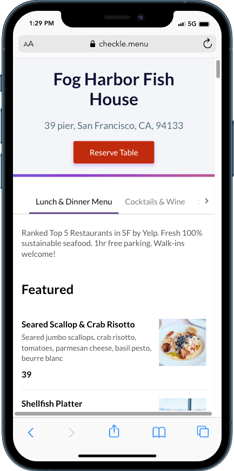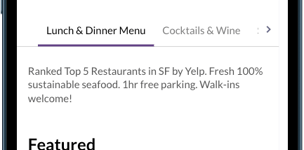 We will beat any competitors price.
No annoying long term contract.
We will never raise your cost.
In fact, we lowered our current customer's cost last year bc we figured out how to do it cheaper.
If we can't beat their price, we'll send you a $100 Amazon gift card.
Frequently Asked Questions
Does Checkle have any contracts that I am locked into?

Nope. You just hit the cancel button if you decide continuing with Checkle is not in your best interest.

Does Checkle offer a multi-location discount?

Absolutely! We give discounts for bringing on multiple businesses with Checkle.

The amount of businesses you bring on will change the amount taken off of your bill. But at minimum, you're looking at a 10% discount.

Can you respond to my reviews for me?

Absolutely! We do this for several customers. We guarantee we'll respond within 48 hours from a real human being. Never templated, boring responses.

Will Checkle update my menu for me?

Yes! We will update it for you within 48 hours of a request.

How can I contact you?

You can call or text us at: 256.733.2562

Email us at: support@checkle.com

Chat bubble: within the app

What is your pricing?

We give a discount if you pay annually. That is the pricing you see above in our charts.

Here is the pricing listed out for each plan when you pay on the monthly plan:

Reviews = $20

Menu Sync = $50

Complete = $60


Customers get 2 months free when you choose to pay annually.
Ready to give Checkle a spin?
We're happy to make a demo for your restaurant!
Call us: 256.733.2562 or book a meeting whenever is convenient for you.
You will receive a $50 Amazon gift card regardless of whether or not you choose to use Checkle.
What's in the demo?
Update your business info (like your menu and hours) on 70+ platforms and keep it accurate

Get more 5 star reviews than your competitors

Market your specials and happy hours

Post to Google, Facebook, and Instagram

We'll respond to all of your reviews for you for super cheap